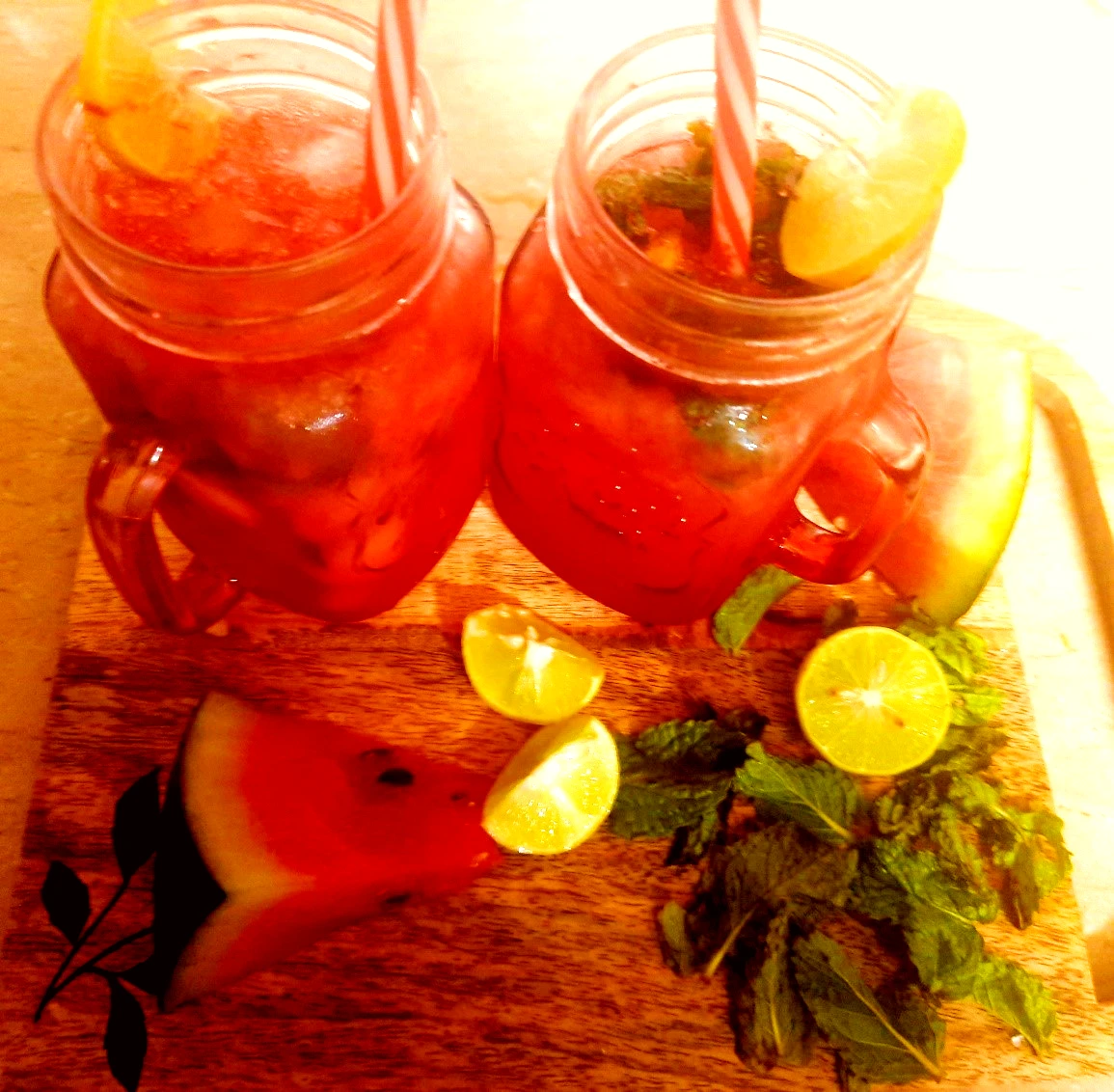 Hi guys!! Welcome to my blog again!!
I hope you are doing well and are fine as the pandemic in some parts is still there. So I would suggest you all be safe and protective, and then give yourself a fully balanced, and tasty meal that builds a good number of WBCs.
So today I went with my MIL to do some grocery shopping. We, the family of five, have a habit or, more accurately, a ritual of eating a plate of fruit before the main meal at night.
Earlier, I used to be like, "WHY?"
WHY EVERY DAY YAAARRRRRRRR???
But now I realize what a noble ritual it is. On vacation, we follow this ritual of going to any party or function, but not before that!
Anyhow, that's basic now. So I thought to give some change to our ritual with one fruit which I like the most, and that is
WATERMELON.
With summer just about upon us, this colorful watermelon mojito makes a wonderful, extra-refreshing, and bright twist on the original. It has a certain lightness, but you know there's a little kick of rum, too.
Watermelon has such a vibrant colour that it is always helpful to make the drink look pretty. But it also has a lovely delicate flavor that is a great addition as well. It also conveniently pairs well with both lime and mint, the main flavours in a mojito.
This watermelon mojito is the perfect light and bright warm-weather cocktail—colourful, refreshing, and easy to make too. You'll be sipping them all summer long!
All you need is:
4 servings; 10 minutes to prepare.
10 frozen watermelons 🍉chunks and a few small cubes to put on

Pollo (peppermint)

10-20 mint leaves and a handful for garnishing

3 lemons' 🍋juices and one cut into round slices for decoration

1 tsp brown sugar for each

8 ounces of soda water or white rum.

Lots of crushed ice
A Watermelon Mint Mojito is a
refreshing summer cocktail
made using fresh watermelon juice, white rum, and club soda. Make a big pitcher using a few simple ingredients in under 10 minutes.
WHERE DID MOJITO COME FROM???
Though exact origins other than Havana are little up for debate. But mojito is a traditional Cuban highball. The cocktail generally contains five ingredients: white rum, sugar, lime juice, soda water, and mint.
A mojito without rum is called a "Virgin Mojito."
So it is good to call it a
virgin watermelon mojito
.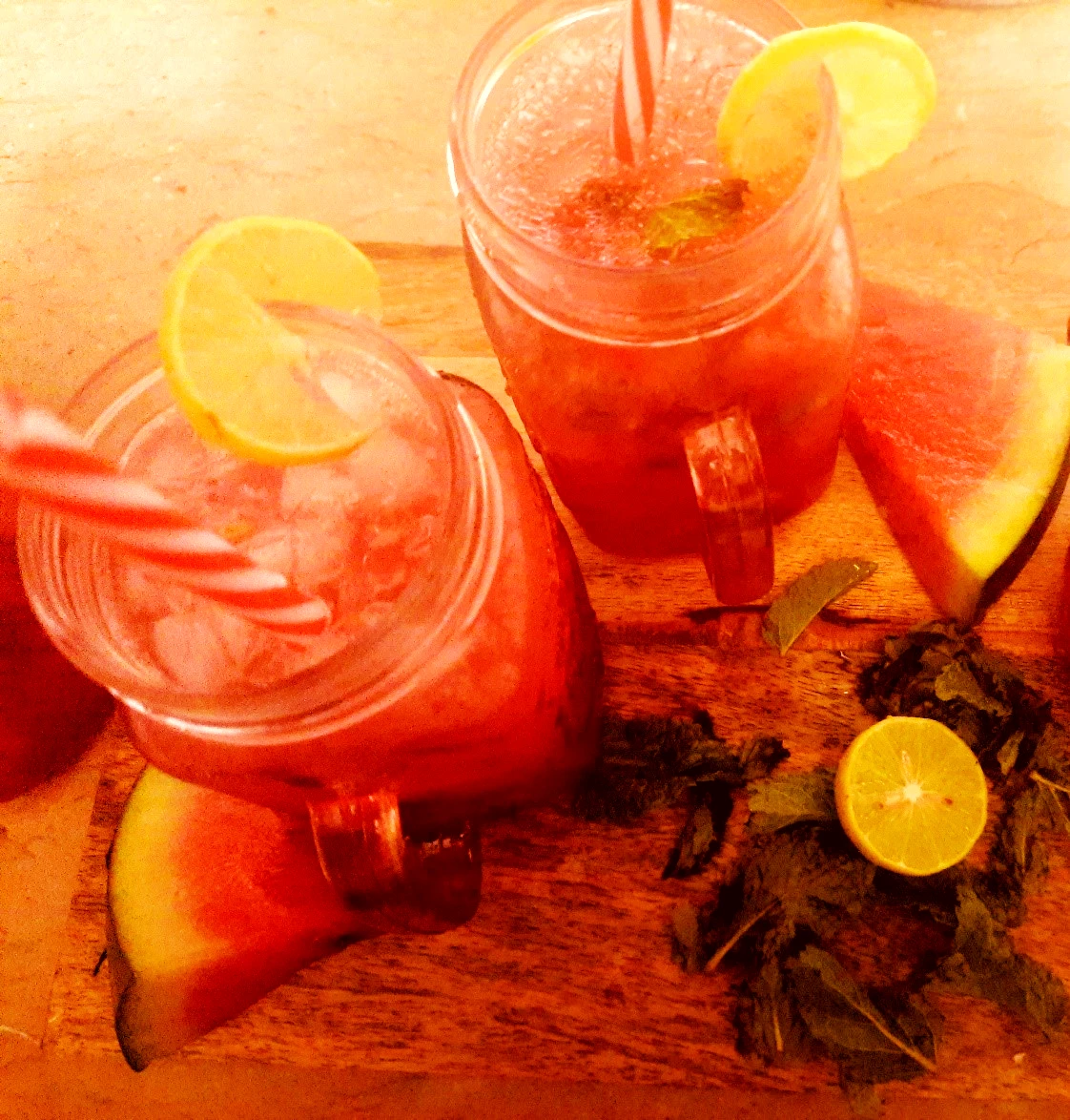 MAKING OF THE DRINK
For each drink, muddle two watermelon chunks with the juice of 1 lime and 1 teaspoon of brown sugar in the glass, along with 3-4 leaves of mint.
The secret ingredient is a piece of polo mint in each glass, giving it a bar-style flavor. https://www.amazon.in/Polo-Mint-Roll-17-16g-Pack/dp/B01FRZ3AGI
Then add lots of crushed ice and fill the glass to the top.
Add 2 ounces of white rum or soda water.
Toppings
Top each glass drink with small cubes of watermelon chunks and mint leaves. Also, put some slices cut into a radius on one side and hang them on the corner of the glass.
A watermelon mojito makes for such a colorful, refreshing drink that's perfect for summer. As soon as I tried them, I wondered why I hadn't tried them sooner. Not only are they a great way to use up some extra watermelon,
NUTRITION CONTENT
Calories: 170 kcal
Carbohydrates: 19g
Protein: 1 g
Fat: 1 g
Saturated Fat: 1g
Sodium: 54mg
Potassium: 128mg
Fiber: 2 g
Sugar: 14 g
Vitamin A: 905IU
Vitamin C: 20.9mg
Calcium: 38mg
Iron: 0.8mg
Remember to pin it for later.
Did you make this cocktail?
Please let me know how it turned out for you! Leave a comment below and share a picture on
INSTAGRAM
with the hashtag
#sweeetchillies
Also, if you tried it with a different version, do comment below and share your ideas.
Leave a comment below.
Your comments make my day. Thank you! If you have a question, please skim the comments section—you might find an immediate answer there. If you made the recipe, please choose a star rating too.
"This content is monitored by Scrrum Labs. For any complaints, please write to us at

[email protected]

"
Deliciousness jumping into the mouth.