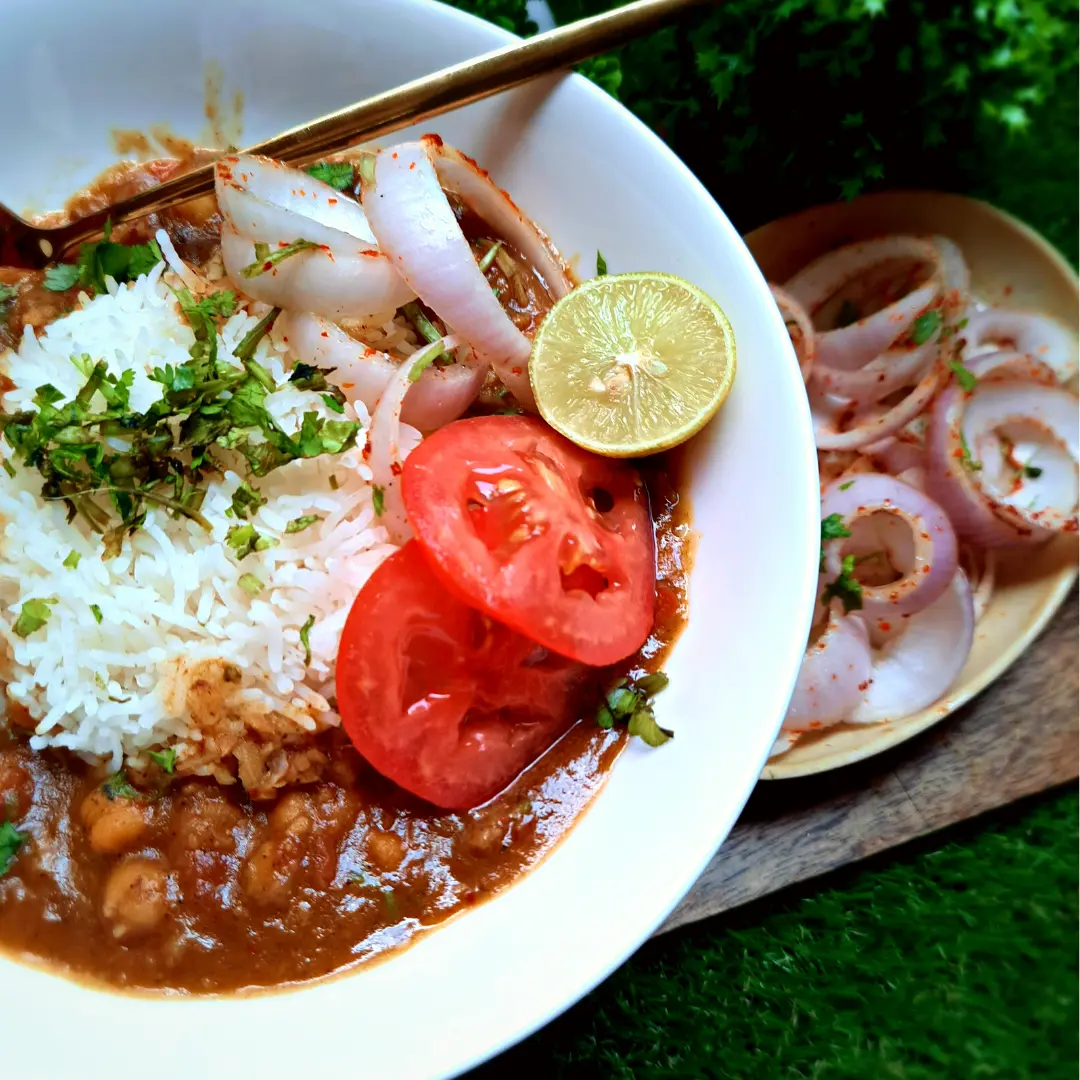 Chole Chawal is a typical North Indian street food made with rice and chickpeas, which makes a delicious and healthy meal.
Every market in Delhi is always crowded, with both wide and narrow lanes. One could spot hawkers every two minutes. It is unbelievable, but true. From rich to poor, everyone would crowd up these hawkers and eat their favourite food. There are many perfect places to explore the flavours of street food.
There are many chole walas in the market, but this one in the Gaffar market in Karol Bagh is one of the best. His stuff sells like hotcakes. The rice is made with some peas and tiny cubes of paneer. It is beautifully decorated with tomatoes, chillies, paneer, etc. The interesting part of this dish is the cottage cheese, where the vendor fills a plate with rice, tops it with chole, and then tops it with some spicy spinach. The spinach is topped with a slice of cottage cheese and some freshly made mango or carrot pickles, depending on the season.
One achieves a great sense of satisfaction after eating this protein-rich bowl. a street food bowl with high chilly content, low oil, fresh green spicy spinach that tastes like chutney, crunchy onions, tangy mango pickles to bite in between, and if you get that sharp chilly taste, bite into the paneer piece…wow…can you absorb the flavours?
Chole chawal, also known as chole rice, is my all-time favourite north Indian dish, and it can be found in almost every household during weddings, parties, or festivals. 80% of the people you meet will have this on their favourite menu.
Since I am very talkative so as not to waste much of your time, I will bring to you my Mom's Secret recipe straight from her kitchen!!!!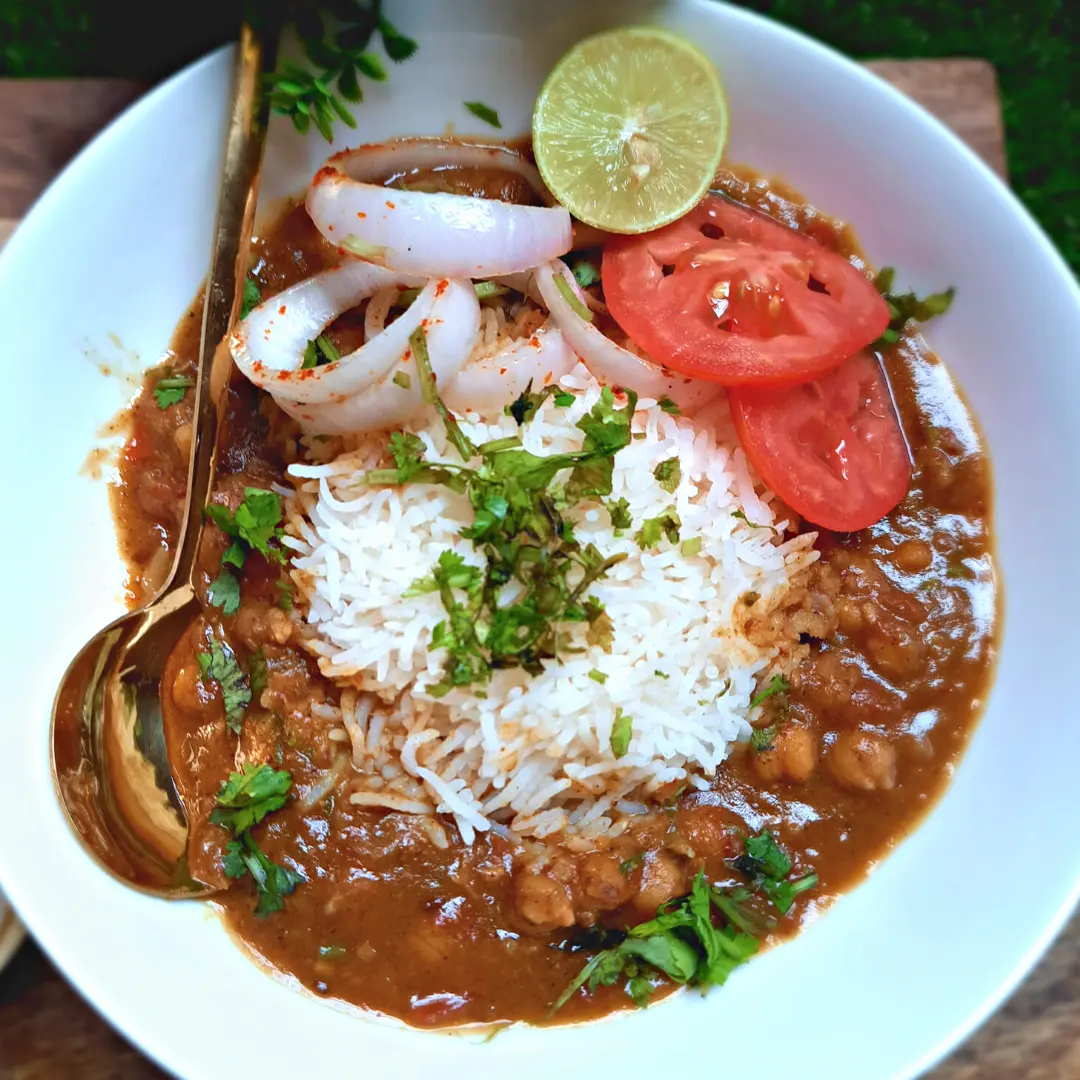 INGREDIENTS
RICE
1 cup of rice

1 large cardamom

2 small cardamoms

1 or 2 bay leaves

cumin 

1 teaspoon oil

1/2 teaspoon cumin seeds

Salt to taste
Chole/Chickpeas
1 /2 cup chickpeas , soaked overnight

Salt to taste

4 tablespoons oil

2 tbsp Ghee

3-4 cloves

2 bay leaves

1 tsp cumin seeds

2 green chilly, slit into two

3 medium tomatoes , puréed

1 tomato, chopped

2 tsp coriander powder

1 tsp red chili powder

1 tsp red pepper powder or Kashmiri red chili powder

1 tsp black pepper powder

1 tsp. amchur powder

½ asafoetida

½ garam masala

Fresh coriander leaves for garnishing
Rice
In a large mouth vessel, heat 1 tablespoon of oil.I chose this so that the grains of rice can get enough space to spread and cook.

Add the bay leaves, cloves, cardamom, and cumin.

Roast till we get an amber colour.

Add 2 cups of water. We took one cup of rice, so we always took twice as much water as rice.

Let boil, and add salt.

Add rice and cook till it's done.

(You may also add peas at the point when the rice is 80% cooked, cover, and cook on a slow flame till done .)




Chole
Pressure Cook the chickpeas with bay leaves

(you may also add tea bags, gooseberry tied in muslin cloth)

  salt for 4-5 whistles or until completely done. (

Remove the tea bags and gooseberries, once boiled.) .

Purée three tomatoes and chop one tomato.

Add the slit green chili to the hot oil.

Next, add the puréed tomatoes, and as soon as you add the puree, add salt to taste. 

(

Remember your boiled chickpeas' water also contains salt, so add accordingly.

)

Add red pepper powder/Kashmiri red chilli powder, amchur powder, black pepper powder and pomegranate powder.

(NOW IT'S TIME FOR THE SECRET INGREDIENT.)
On a hot tawa, take coriander powder, cumin, and cloves, and on low flames, roast them until they change colour and turn aromatic.
Remember not to burn it.
Then combine them with the tomato puree and cook until the oil separates.
This gives a good black and brown colour to your chickpeas.
(You can use tea bags and soda together while)
Add the drained chana and simmer for 5–10 minutes.
Turn off the heat.
Did you make this recipe?
Please let me know how it turned out for you! Leave a comment below and share a picture on 

INSTAGRAM

 with the hashtag #

sweeetchillies
Leave a comment below.
Your comments make my day. Thank you! If you have a question, please skim the comments section—you might find an immediate answer there. If you made the recipe, please choose a star rating too.
"This content is monitored by Scrrum Labs. For any complaints, please write to us at 

[email protected]

"
Deliciousness jumping into the mouth.