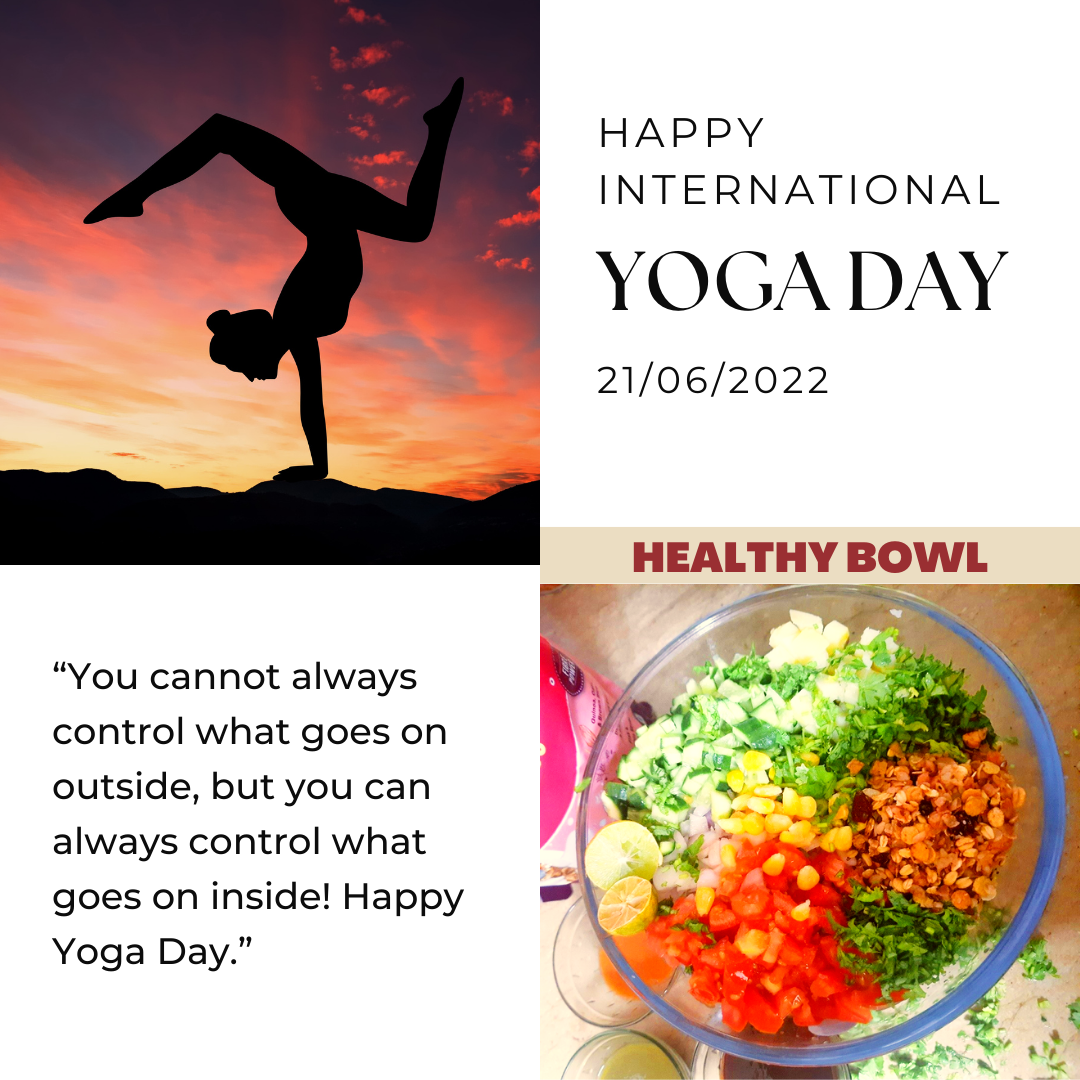 "You cannot always control what goes on outside, but you can always control what goes on

inside!

Happy

Yoga Day."
The practice of yoga is believed to have started at the very dawn of civilization. The science of yoga has its origin thousands of years ago, long before the first religions or belief systems were born.
Shiva is regarded as the first yogi, or Adiyogi, and the first Guru, or Adi Guru, in yogic lore.
In the Himalayas, Adiyogi poured his profound knowledge into the legendary Saptarishis, or "seven sages." The sages carried this powerful yogic science to different parts of the world, including Asia, the Middle East, Northern Africa, and South America. Interestingly, modern scholars have noted and marvelled at the close parallels found between ancient cultures across the globe. However, it was in India that the yogic system found its fullest expression. Agastya, the Saptarishi who travelled across the Indian subcontinent, crafted this culture around a core Yogic way of life.
As a combination of careful body postures and meditation, yoga can help you achieve harmony of the mind, body, and soul. In fact, it can boost your immunity and resistance to common illnesses, stress, and anxiety—just what you need these days.
Keeping the importance of yoga in mind, International Yoga Day is observed on the 21st of June every year in many countries around the world, including India. The event, which is the brainchild of PM Narendra Modi, was first celebrated on June 21st, 2015.
Since then, on this day, India and other countries have organized many yoga-related events to increase awareness about the positive effects of this holistic practice.
International Yoga Day is an important event that is celebrated on June 21st across the globe with great enthusiasm. This year, the Ministry of Ayush has coined the theme "Yoga for Humanity". The theme was selected with the aim of activating and inspiring the yoga community for sustainability and global development.
The International Yoga Day 2022 theme was announced by PM Narendra Modi on May 30th, 2022 in his monthly "Mann Ki Baat" address. The theme was selected keeping in mind the important role yoga has been playing in dealing with COVID-19. This holistic
practice

not only benefits the mind and body but also inculcates love, generosity, and compassion towards others.
As you already know, the pandemic has been one of the most trying times for many since 2020. Apart from affecting physical health, it causes a range of psychological and mental health issues. Pandemic-related restrictions led to stress, anxiety, and depression, and dealing with these issues proved to be challenging. It was during this time that more people around the world embraced yoga and meditation to promote their physical and emotional well-being.
These holistic practices are still playing an important role in the recuperation of COVID-19 patients in isolation.
Hence, focusing on the theme "Yoga for Humanity", India will
organize

special

programs

for children, women, specially-abled people, as well as transgenders this year. A large turnout is expected in villages

/

gram panchayats as well, thanks to Common Service Centres (CSC) that are promoting the Common Yoga Protocol (CYP) to spread awareness about the benefits of yoga among the masses.
In the event of this day, sweet chilies introduce a healthy bowl of heart.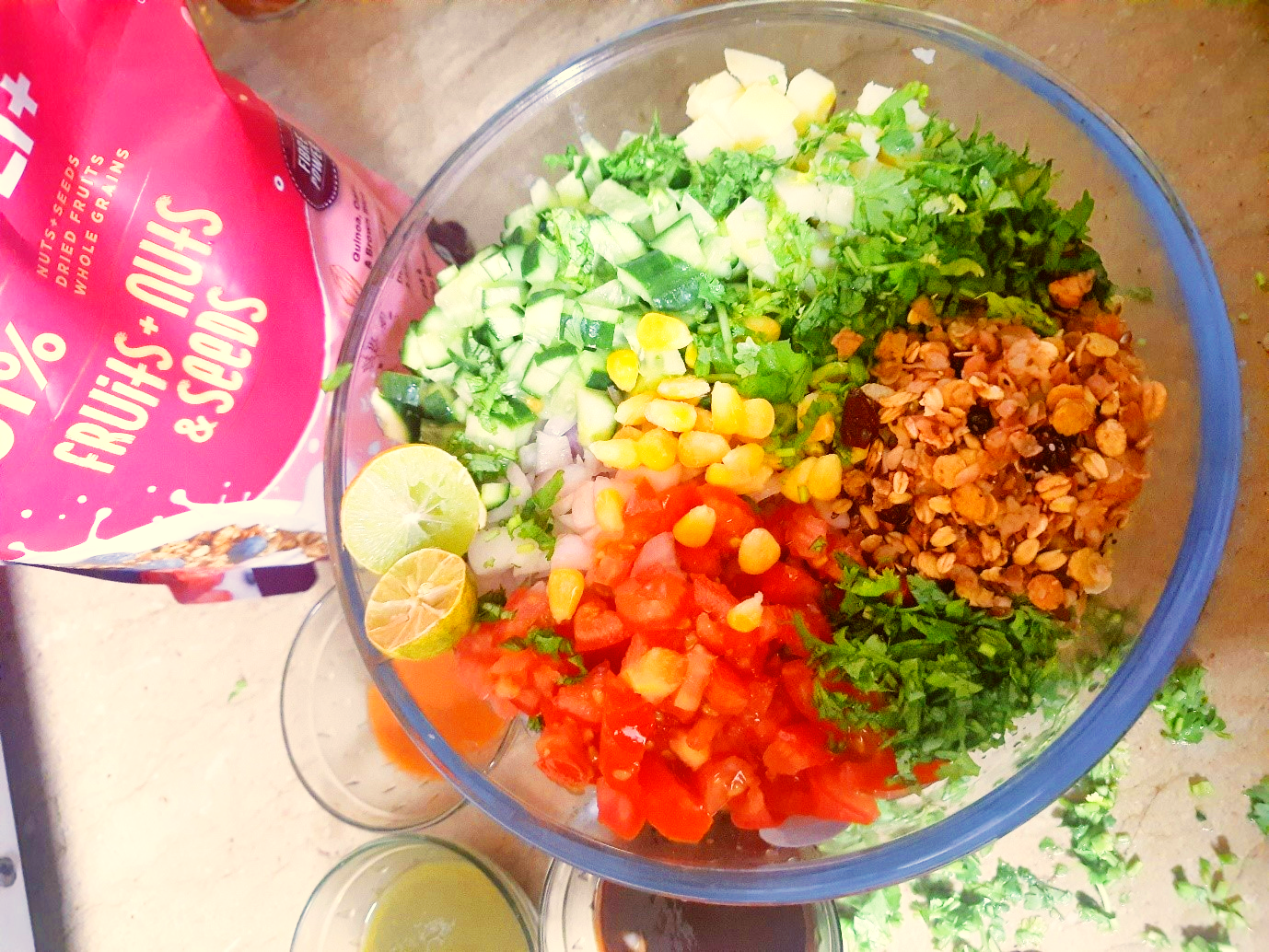 A bowl of
colours

made of puffed rice, vegetables, and a tangy tamarind sauce, and has a crunchy texture and also some fruits, nuts, and seeds (muesli) by
It's often identified as a 'beach snack', strongly associated with the beaches of Mumbai, such as Chowpatty or Juhu.
C

alories per Ingredient
These are the foods from our food nutrition database that were used for the nutrition calculations of this recipe.
Calories per serving
43 calories of Indian Puffed Rice-Mamara-25g, (11.25

gram

)

39 calories of Thick Sev Hot, (0.25 oz)

30 calories of Peanut Oil (0.25

tbsp)

10 calories of Red Ripe Tomatoes, (0.25 large whole (3″ dia)

9 calories of

Tamarinds,

(0.03 cup,

pulp)

4 calories of

Onions

, raw, (0.06 cup, chopped)

3 calories of Cucumber (with peel), (0.25 cup slices)

2 calories of La Victoria Green Salsa

Jalapeño

Sauce, (0.50

tbsp)

0 calories of salt (0.25 dash)
Did you make this recipe?
Please let me know how it turned out for you! Leave a comment below and share a picture on

INSTAGRAM

with the hashtag #

sweeetchillies
Leave a comment below.
Your comments make my day. Thank you! If you have a question, please skim the comments section—you might find an immediate answer there. If you made the recipe, please choose a star rating too.
"This content is monitored by Scrrum Labs. For any complaints, please write to us at

[email protected]

"
Deliciousness jumping into the mouth.