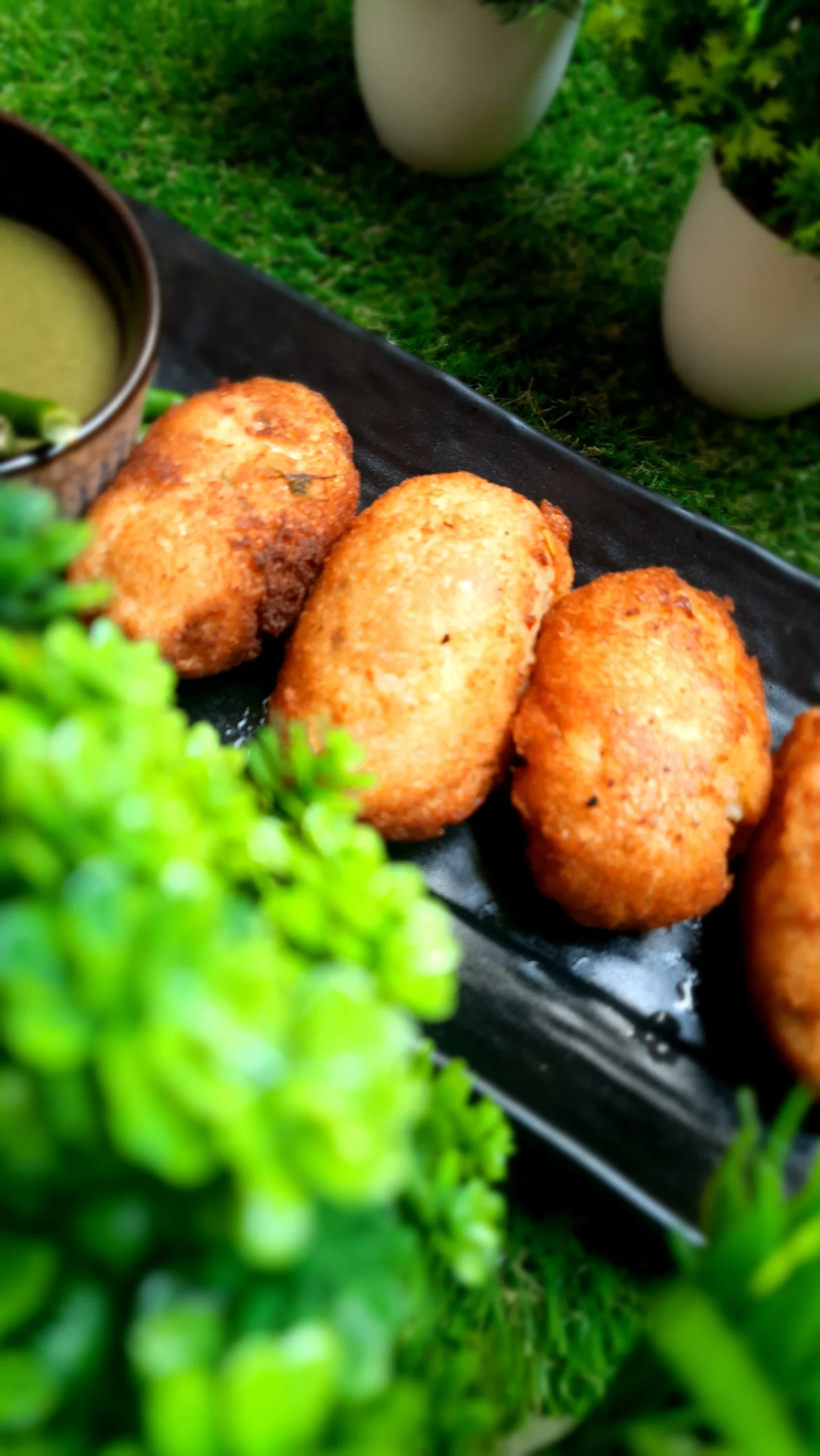 A popular deep-fried snack recipe made with leftover sandwich bread slices and potato stuffing. It is an interesting appetizer or even a party starter recipe that would be appreciated by all age groups. It is simple and easy to make and can be made within minutes while delivering a mouth-watering evening snack.
 Bread snacks have become an integral part of many Indian households. There are many snacks that can be made with leftover bread slices and also mimic other snacks with these bread slices. One such popular street food snack is the bread roll recipe made with spiced and mashed potatoes, onions, and/or peas and paneer stuffing.
I remember when I used to have class parties or picnics, and then these rolls were my top call and luckily my mom and dad made them the best.
I was drooling so much over the dip in tomato ketchup that my cravings began while I was writing.
Preparing a quick and healthy breakfast is always challenging for me; hence, I usually bring sandwich slices. The issue with the sandwich is, you get bored soon and start craving some authentic South Indian breakfast. So you always end up with some left-over bread slices that need immediate attention. What better option is it to finish it off as an evening snack?
Well, bread rolls are one such unique deep-fried snack appreciated by not only kids but also by all age groups. Personally, I make it with any mashed potatoes and onions. Having said that, it does not take much time to cook and mash the potato stuffing anyway.
I always refrigerate boiled potatoes for these quicker recipes.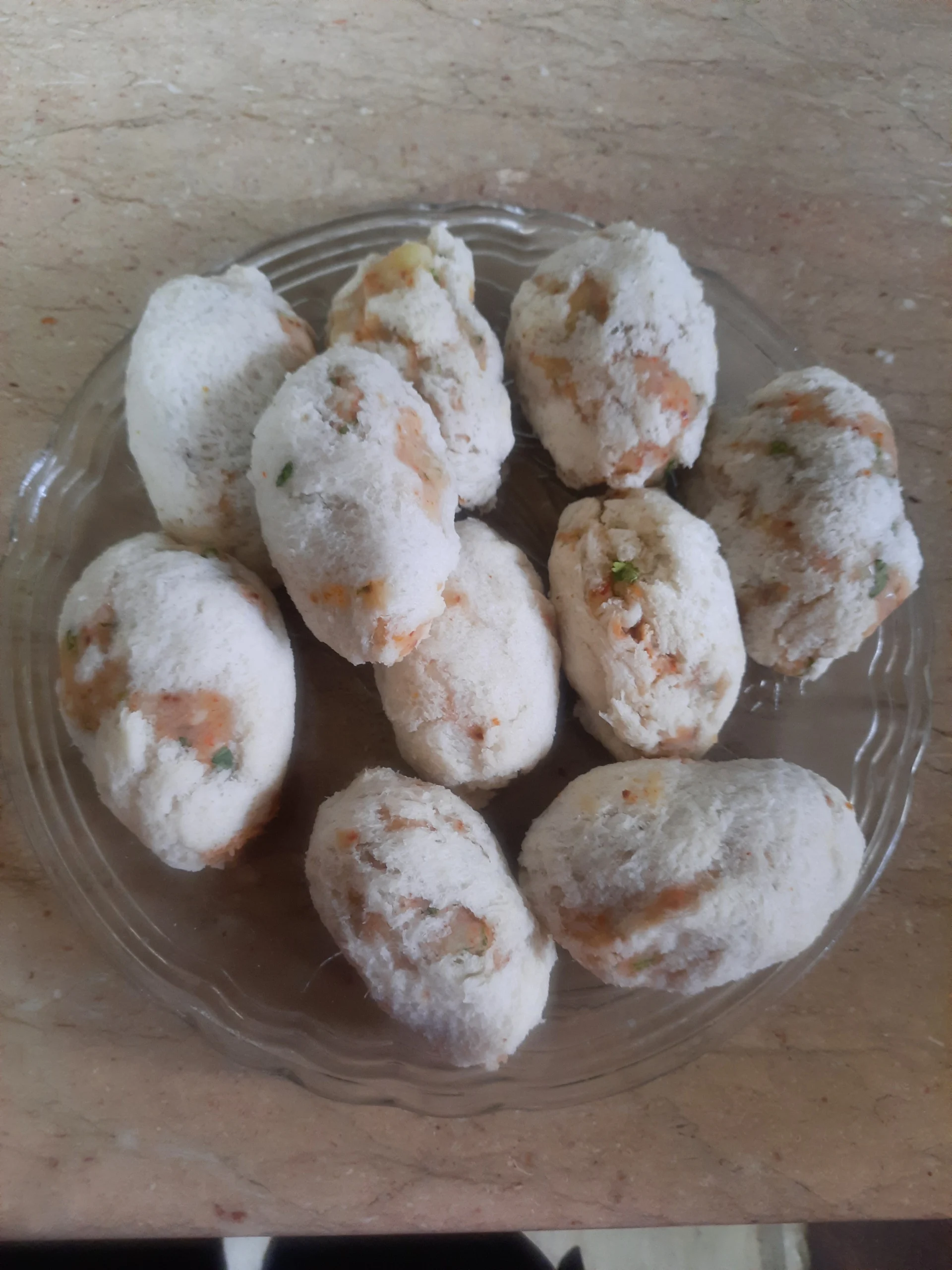 INGREDIENTS
1 tsp green chilli (finely chopped)
3 potato / aloo (boiled & mashed)
½ tsp Kashmiri red chilli powder
½ tsp amchur / dry mango powder
2 tbsp coriander (finely chopped)
STEPS OF COOKING
First, take bread slices and with the help of scissors, cut out the corners from all four sides.

Now take a big bowl and add boiled and mashed potatoes along with chopped green chillies, coriander leaves, and onions.

Also add ½ tsp chilli powder, ½ tsp garam masala, ½ tsp amchur, and ½ tsp salt.

Mix well until the spices are well combined.

Dip the bread slice for a second in the water and squeeze out the excess water.

Make sure to squeeze the bread slice completely, or else it will absorb oil while deep frying.

Place the cylindrical-shaped prepared stuffing.

and wrap the bread, making sure to pinch the edges and secure it tightly. If you are unable to hold the shape, dip your finger in water and make the bread flexible to hold and roll.

Further, with the help of both hands, roll and make a cylindrical shape.

Deep fry the prepared bread roll in the hot oil. Make sure to fry in hot oil, or else the bread will absorb oil and turn soggy.

Stir and fry occasionally on medium flame till it turns golden brown. If you're watching your weight, bake the bread until golden brown.

Finally, serve the stuffed bread roll hot, along with ketchup or a

mint dip

. (

Highlight mint dip and create a link to the page where we have a mint dip recipe.

)
TIPS
Firstly, use the white or brown bread of your choice.

Also, add vegetables of your choice to make the stuffing more healthy and tasty.

Additionally, fry in hot oil. Otherwise, the bread will absorb the oil.

Finally, the bread roll recipe tastes great when served hot but turns soggy once cooled.

I would heavily recommend using white flat sandwich bread slices for this recipe. Do not use wheat, multi-grain, or even brown bread, as you may not get the same desired result. 

Secondly, if you are preparing the stuffing freshly, ensure to cool it down before using it in the bread. Once it is cooled down, you will find it easy to shape and roll it.

 Lastly, do not forget to dip and squeeze the bread slices in water before stuffing them. Also, press the bread slice gently, making sure all the excess water is drained off. This would ensure it would absorb less oil while deep frying.
Did you make this recipe?
Please let me know how it turned out for you! Leave a comment below and share a picture on 

INSTAGRAM

 with the hashtag #

sweeetchillies
Leave a comment below.
Your comments make my day. Thank you! If you have a question, please skim the comments section—you might find an immediate answer there. If you made the recipe, please choose a star rating too.
"This content is monitored by Scrrum Labs. For any complaints, please write to us at 

[email protected]

"
Deliciousness jumping into the mouth.