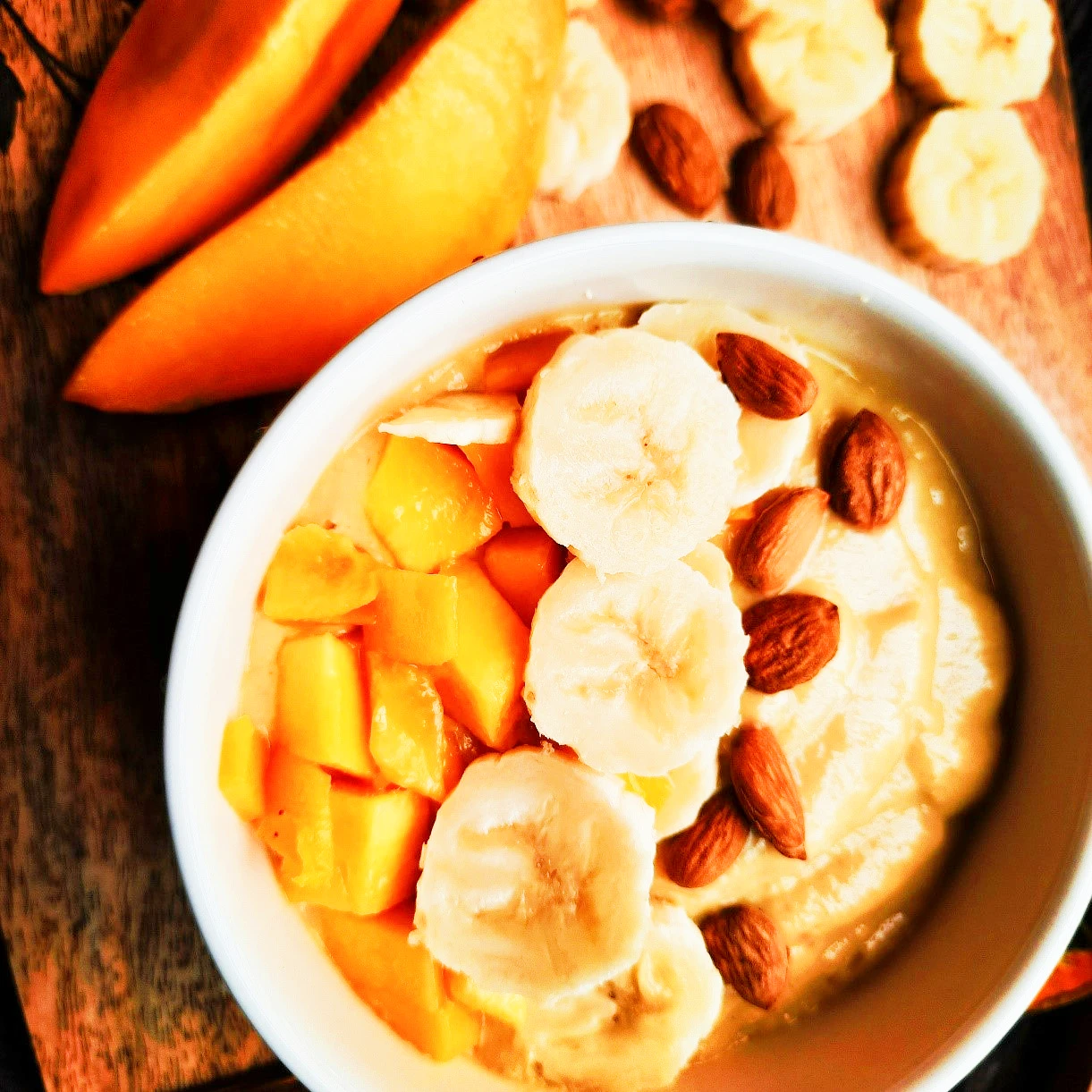 Welcome to my blog again!!!
Happy Sunday!!! to all my Sweeet Chillies family.
Being an international teacher is not an easy job. To go along with classes and matching the timings every day and looking after my joint family, doesn't make me feel that it's been just only 3 years of my marriage. Everyday chores make me so exhausted that it's just Sunday that I wait for an entire week.
Today I was not in the mood to make anything. Just to sit at the corner of my wooden chair made with walnut wood which I bought this year from Kashmir (paradise on the Earth).
If you are planning to visit India, then don't forget to see this heaven on Earth. The beauty of this place speaks from every corner of that place.
Just like that, it's not called the mini Switzerland of India.
While swinging on that chair with one holding the plate of mangoes, my MIL asked to finish the banana kept on the table which I promised her to eat soon, it struck me that why not make something healthy and nutritious that we can have as a brunch!!!
I kept some bananas in the fridge to freeze along with chopped mangoes.
CAN YOU GUYS GUESS WHAT'S IN MY MIND????
NO???
OK!!!
NO worries!!!
But !!!
When it comes to bananas and mangoes, I wonder why some people see these fruits as weight-increasing elements!!
Like yesterday only my BIL was telling my MIL that "don't give me bananas, ussse motapa aata hai
"
What?????
What did I just hear???
It's all a myth!!
Do bananas increase weight???
Wait !!! what???????
There isn't any evidence or proof that claims that bananas contribute to weight gain.
In fact, like any other food, bananas do add up calories, no doubt! But can be counted as a healthy snack and more nutritious and act as a better replacement of sugar.
It's so much rich in nutrients that it keeps the person fuller and not only that, it has antioxidants and keeps not only skin but also your heart and digestive system healthy
My main motive is to include bananas in my husband's diet plan as he has a very poor digestive system and this will help to improve digestive health.
Still couldn't guess it????
MANGO-BANANA🍌-OATS SMOOTHIE
INGREDIENTS
One and half-frozen mango
1 cup almond milk (gluten-free homemade almond milk on the blog soon)
Vanilla essence (as per choice)
MANGOES
It's the season of mangoes in India. Mango is called the king of all the fruits and also it justified by its taste, types, and texture. Sweet, creamy fruit has its own range of possible health benefits.
Firstly, it's low in calories
Although one of the best ways to enjoy the sweetness of the mango is by dicing or slicing it without adding any extra ingredients.
But today I used it in my smoothie and trust me guys, you won't regret this form of mango and banana smoothie.
OATS
Here to give it an awesome texture and since it is counted to be the main ingredient of my smoothie.
Here I used oats from quacker oats https://www.quakeroats.com/
Oats are among the healthiest grains on the earth. They're a gluten-free whole grain and a great source of important vitamins, minerals, fiber, and antioxidants. It also helps in reducing cholesterol and maintaining weight and energy to keep you going.
Please let me know how your mango-banana-oats smoothie turns out in the comments.
I love hearing from you..
ON whole I mean to say you won't regret trying this out!!!
PREPARATION TIME: 10min
Blend all the ingredients together in the blender to make a smooth and creamy one.

Check if too thick then add more almond milk
Make sure it's not too thick or too runny
Take out the smoothie in the bowl and top it with more of the mango cubes and banana slices

Serve with love and eat with a full heart♥
Oats aren't just for bowls! Try incorporating them into breakfast drinks like this smoothie, which calls for fruits including banana and mango that yield a fresh, tropical flavor.
Nutritional content – Nutrition per serving:
Calories: 210; Total Fat: 3.1g;
Saturated Fat: 1.4g; Monounsaturated Fat: 0.4g;
Cholesterol: 8.8mg; Sodium: 113.8mg;
Carbohydrate: 42.5g; Dietary Fiber: 3.8g;
Sugar: 26.7g; Protein: 10g
Did you make this recipe?
Please let me know how it turned out for you! Leave a comment below and share a picture on
INSTAGRAM
with the hashtag
#sweeetchillies
Leave a comment below:
Your comments make my day. Thank you! If you have a question, please skim the comments section—you might find an immediate answer there. If you made the recipe, please choose a star rating, too.
"This content is monitored by Scrrum Labs. For any complaints, please write to us at

[email protected]

"
Deliciousness jumping into the mouth.