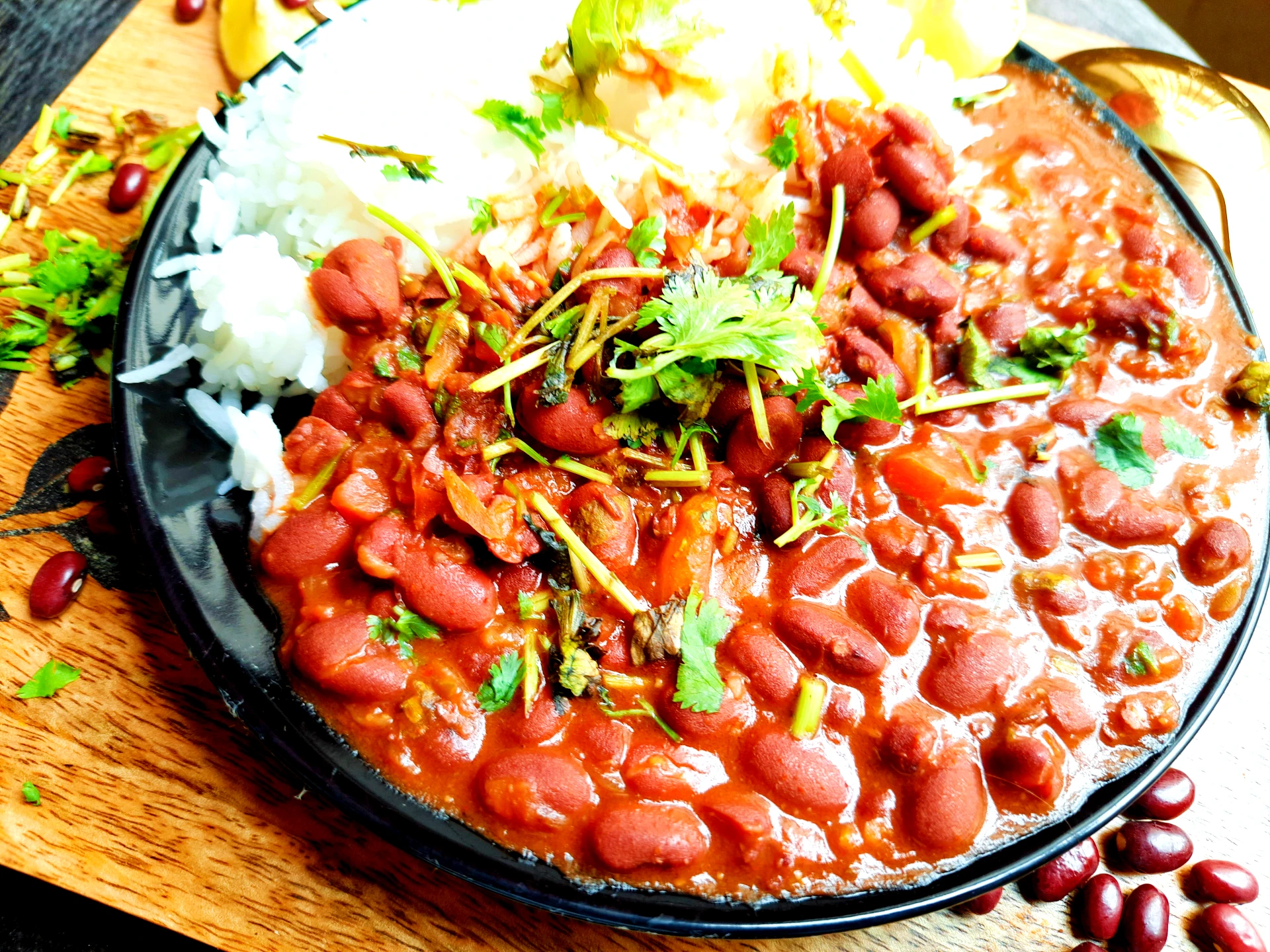 Rajma rice is a simple yet delicious meal. Whereas Rajma (kidney beans) is rich in iron and protein, when it is combined with rice, it is a great source of carbohydrates. So it makes a wholesome meal. It is a great meal for kids' lunch boxes too, as it is one of the favourite dishes among kids and young people.
Kidney bean curry, popularly known as rajma masala in north India, is a curry dish made with kidney beans, onions, tomatoes, spices, and herbs. This is so delicious that it can be served with either rice or chapati.
RAJMA (Kidney Beans)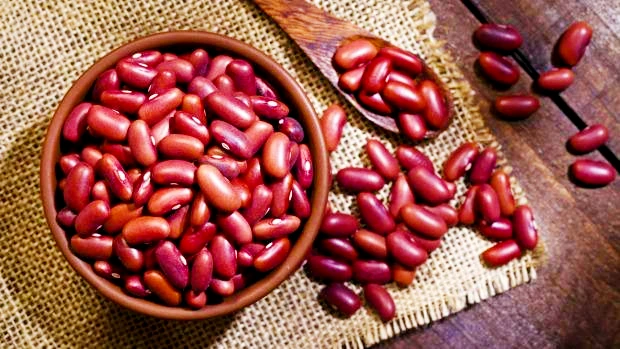 There are 3 main kinds of kidney beans available on the market. CHITRA RAJMA, JAMMU RAJMA, and RED RAJMA are three of them.
In my kitchen, you will find Jammu rajma. They are small in size and very lightweight. In short, my mum used to say it's an easily digestible type.
As their red exterior would imply, these beans are extremely rich in iron and can provide much-needed energy boosts. Like the Chitra Rajma, the Jammu Rajma is also eye-catching. However, this time it's not the colouring or pattern but the Rajma's similarity to the shape of the kidney that makes it stand out. While this kind of Rajma is cherished all over India, its aroma can be especially found in the northern regions of the country. Reflective of its name, Jammu Rajma is an extremely popular dish in areas around the Himalayas.
This recipe will make your mouth melt with rajma, and I promise, once cooked, everyone will love your rajma forever.
DIFFERENT METHODS
Many people have different styles of cooking. Some call it Punjabi rajma, so use another type, and in the gravy put garlic, ginger, onions, grinned tomatoes, and spices. 

Some prepare it in the bhuna masala style, in which you make a puree of everything and cook it with spices to make a thick curry. 

Some like the flavour of curry leaves in it. 

You can also have my method below.
Want to surprise your family with the best rajma recipe? Try this easy rajma masala recipe today! If you are wondering how to make Rajma chawal, don't worry! This easy rajma recipe will help you make this delicious and filling lunch with no effort. The Rajma masala recipe is so easy to prepare and it goes perfectly with rice. Rajma chawal is also healthy as it contains good quality carbohydrates and proteins. With our Punjabi rajma chawal recipe, you can delight your friends and family! This popular dish is loved by people of all age groups. This Rajma Chawal is perfect for a Sunday brunch or a get-together. It is cooked by using easily available ingredients like rajma (kidney beans), rice, onions, tomatoes, and a selection of spices. So go ahead and try out this rajma recipe and relish it with your near and dear ones.
INGREDIENTS
1 cup red kidney beans

2 large onion

1 teaspoon garlic

1 tablespoon coriander powder

1 tablespoon amchur powder 

½ teaspoon garam masala

1/2 tablespoon powdered black pepper

2 green cardamom

1 bay leaf

🍃

 

2 clove

2 tablespoon any cooking oil (

safola gold

) 

2 large tomato

1 cup rice

2 chopped green chilli

1 tablespoon cumin

Salt as required

1 tablespoon garam masala powder

1 black cardamom

2 green cardamoms

1 tablespoon ghee

Chopped coriander leaves
DIRECTIONS
Step 1: Soak rajma overnight, then pressure cook until soft.
Wash the rajma and allow it to soak in water overnight. Wash it again and pressure cook it with 2 cups of water, 1/2 tsp salt, cloves, black cardamom, green cardamom, and bay leaf. Once the rajma is soft and squishy, remove it from the heat and keep it aside to cool.
Step 2:  Chop the veggies
Finely chop the onions and keep them aside. Grate the tomatoes and keep them aside. Make a paste of garlic and green chilies.
(You may use ginger here, chopped or grated).
Step 3: Prepare the rajma
In a deep-bottomed pan, add cooking oil. When it gets heated, add asafoetida and cumin. Once they become fragrant, add the onions and cook until they are golden brown. Add the garlic-chilli paste and add the tomatoes and cook on high for 4-5 minutes. Once you add tomatoes, add salt here as well as per requirement.
(salt helps the tomatoes cook quicker and makes them mushier). Add the spices(red chilli powder, black pepper powder, amchur powder, garam masala).
Cook till the spices become fragrant and oil starts leaving the sides of the pan. Now add the rajma and one cup of water. Mix well and cook, covered, for 10 minutes. Once done, add the ghee. You can garnish with coriander leaves. Your rajma is ready.
Step 4: Prepare the steamed rice and serve it with the Rajma.
To make steamed rice without using a pressure cooker, wash 1 cup of rice in running water. Then, add them to a large and deep-bottomed pan with 4-5 cups of water in it. (You can also add a little salt to it for taste). Once the rice is soft and double its size, strain the water. Spread the rice on a plate and allow it to cool for 2-3 minutes. Once the rice is done, serve it hot with the prepared rajma.
TIPS
Serve rajma chawal with some masala onion rings and lemon wedges for a perfect lunch.

You can also cook the rajma in an instant pot with 1 cup of water.

Make sure you rinse the rajma properly before pressure cooking them.

You can make a tomato puree with 2 tbsp of cooked rajma for a thicker gravy.

You can add ginger-garlic paste if you want.

The addition of garlic and onions is purely optional.

You may also use mustard oil instead of cooking oil.

Adding amchur powder is optional again. Replace it with one full lemon of juice

You may also add a cinnamon stick. I avoided it as my husband does not like its flavour.
Did you make this recipe?
Please let me know how it turned out for you! Leave a comment below and share a picture on
INSTAGRAM
with the hashtag
#sweeetchillies
Leave a comment below:
Your comments make my day. Thank you! If you have a question, please skim the comments section—you might find an immediate answer there. If you made the recipe, please choose a star rating, too.
"This content is monitored by Scrrum Labs. For any complaints, please write to us at [email protected]"
Deliciousness jumping into the mouth.