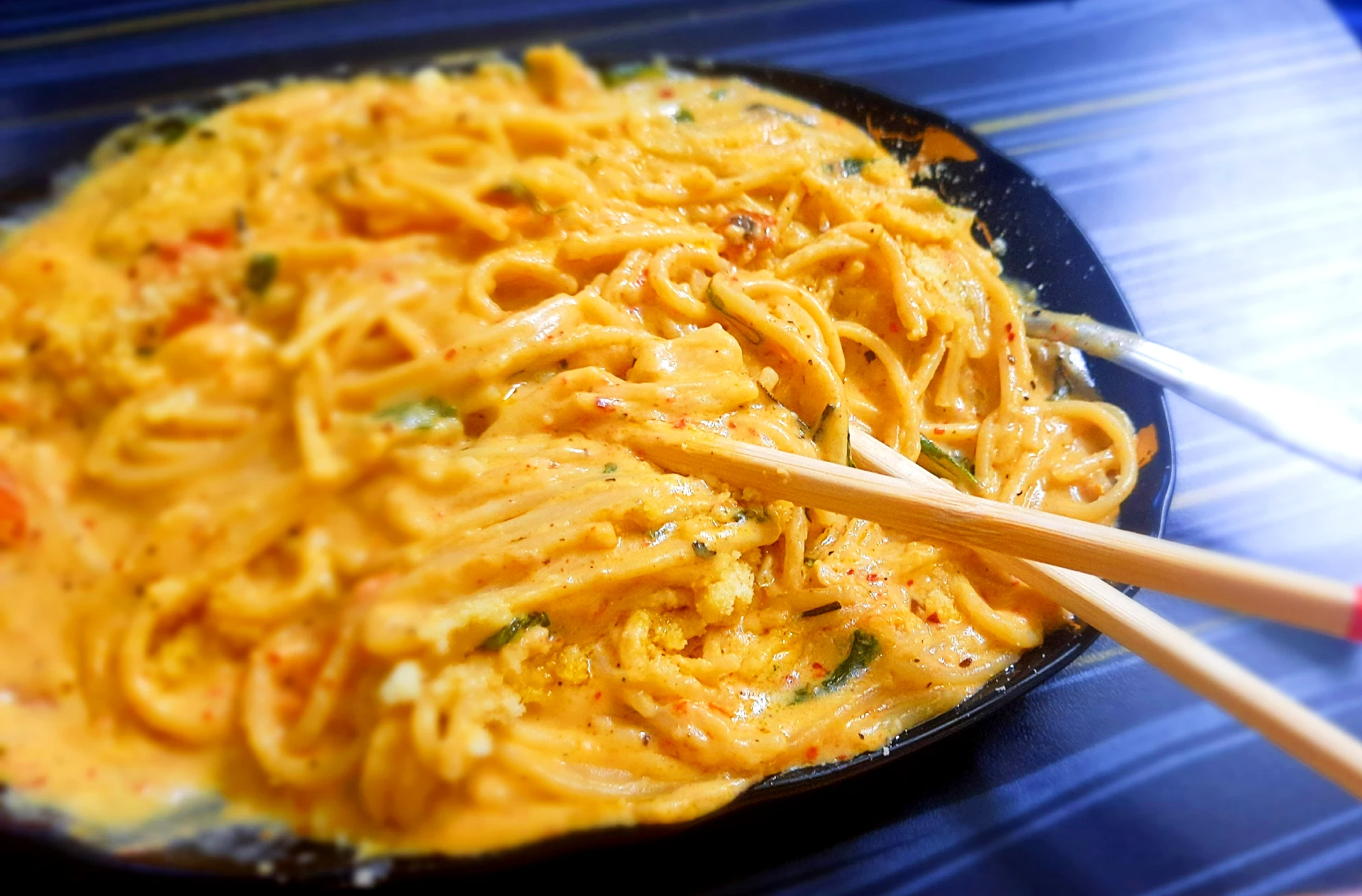 INDIAN STYLE BASIL SPAGHETTI
This simple Indian-style basil spaghetti recipe is one to keep in your back pocket for busy evenings. It's quick, easy, and requires minimal ingredients—and most importantly, it's absolutely delicious! Plus, you can customise it completely to suit you by adding in your favourite herbs and veggies—this recipe is a good base for you to turn it into your perfect dinner!
Here I tried a simple Indian tadka style, making it more lip-twisting and more grounded.
To make it Indian style, you don't need extra spices, it's just a replacement for what we use in general.
But, you can also make it more aromatic by adding extra herbs. Try adding some finely chopped thyme, oregano, and parsley in with the basil for more of a delicious fresh herb flavour. This would also be delicious with a few halved cherry tomatoes and black olives!
Replace regular salt with herbs or even lemon salt for an extra depth of flavor! Obviously, you can still use regular salt for the pasta water, but a sprinkle of infused salt on top won't do any harm!
Add in some chopped onion, chopped shallot, or garlic chives for some extra texture and more of an onion-garlic flavour. Obviously, this pasta already uses plenty of garlic, though, so if you prefer things less garlic-y, then this isn't the best route for you.
A little bit of fresh lemon juice and zest at the end would also bring another element of freshness and lightness. However, you don't necessarily want to bother zesting a lemon and squeezing out (probably half of) it for this dish—hence why it's an optional extra.
Ingredients
80 grams (3 oz) of spaghetti

4-5 cloves of garlic, very thinly sliced or smashed.

1/2 teaspoon chilli flakes

Chilli oil

Oregano 

60 grams (1/2 cup) grated parmesan

1 bunch of basil, very finely chopped.

Salt and crushed black pepper, to season to taste.

2 cups milk

1 tablespoon flour

Mushrooms🍄 -finely chopped

2 processed cheese slices🧀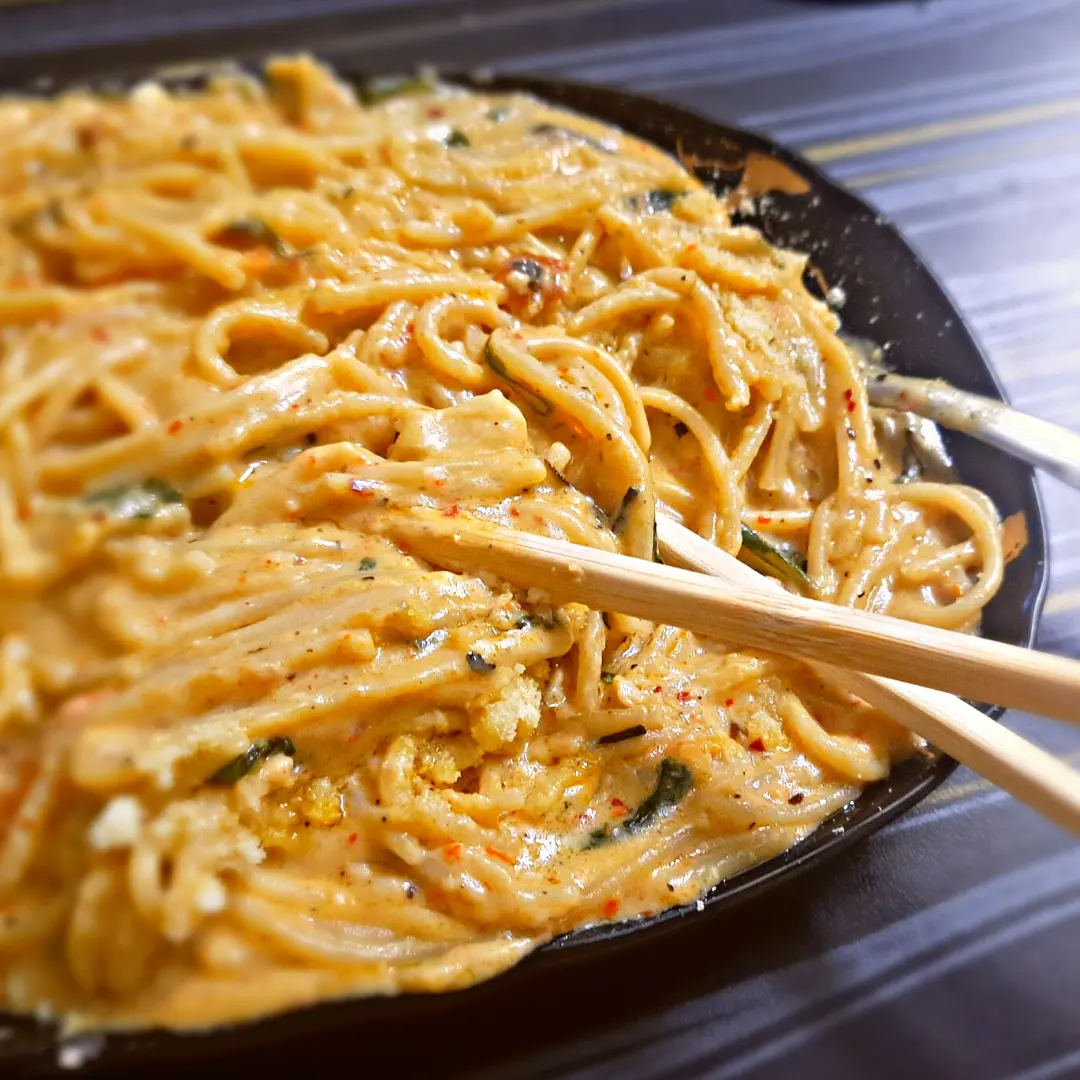 Extra Veg
You can add in almost any veg! For example,
Chopped cherry tomatoes right at the end.

Caramelized, chopped onions

Boiled corn or baby corn 🌽 

Halved, pitted black olives at the same time as the basil

Thin strips of bell pepper (green, yellow, or red) 2-3 minutes after the garlic and chilli flakes have started cooking.

Replace spaghetti with pasta, pasta shells, and courgette (zucchini) partially or completely.

Add in some fresh spinach towards the end (or right at the end, depending on if you like it wilted or not).

Replace the chilli flakes with a deseeded and finely chopped red chilli pepper.
See – pretty much limitless! You can make this garlic and basil pasta as healthy as you like, really. Plus, it means that you get so many different variations, each with the same cooking method, so that it's super easy to change it up and have something a little different, even in the evenings when you're absolutely exhausted!
INSTRUCTIONS
1. Bring a large pan of salted water to a boil and begin to cook the spaghetti.
2. In a separate pan, heat the chilli oil over medium heat, then add the sliced garlic cloves, mushrooms and basil leaves. Cook until it's golden brown.
3. By this time, the pasta should be cooked. Drain it and add it to the pan.
4. In a separate pan, take butter and flour and, on low heat, cook them. Once it turns brown, add milk to it slowly and at the same time whisk it in order to avoid any lumps.
5. Once creamy, at this stage, add your veggies, pepper, salt, oregano, and cheese slices and give it a good whisk.
6. Keeping the heat on low, add the spaghetti and stir to coat the spaghetti evenly. Turn off the heat and stir it gently. Serve with parmesan and basil on top.
A simple and quick basil spaghetti recipe with plenty of flavour. It's cheap, easy, veggie-friendly, and perfect for when you need an easy weeknight dinner and doesn't want to turn the oven on! Plus, it's single-serving, so you don't have to worry about leftovers.
Did you make this recipe?
Please let me know how it turned out for you! Leave a comment below and share a picture on
INSTAGRAM
with the hashtag
#sweeetchillies
Leave a comment below:
Your comments make my day. Thank you! If you have a question, please skim the comments section—you might find an immediate answer there. If you made the recipe, please choose a star rating, too.
"This content is monitored by Scrrum Labs. For any complaints, please write to us at [email protected]"
Deliciousness jumping into the mouth.